Archives for : Aprile2014
See on Scoop.it – Curiosopernatura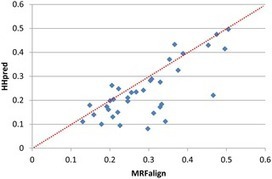 PLOS Computational Biology is an open-access
See on www.ploscompbiol.org
See on Scoop.it – Curiosopernatura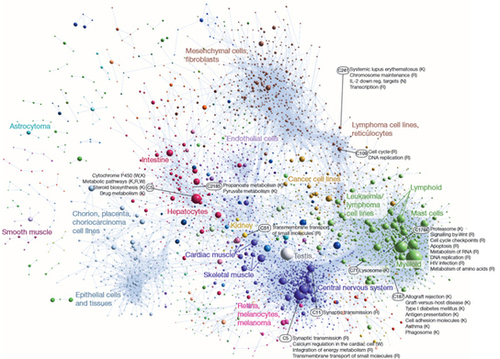 A large international consortium of researchers has produced the first comprehensive, detailed map of the way genes work across the major cells and tissues of the human body. The findings describe the complex networks that govern gene activity, and the new information could play a crucial role in identifying the genes involved with disease.
"Now, for the first time, we are able to pinpoint the regions of the genome that can be active in a disease and in normal activity, whether it's in a brain cell, the skin, in blood stem cells or in hair follicles," said Winston Hide, associate professor of bioinformatics and computational biology at Harvard School of Public Health (HSPH) and one of the core authors of the main paper in Nature.
"This is a major advance that will greatly increase our ability to understand the causes of disease across the body."
The research is outlined in a series of papers published March 27, 2014, two in the journal Nature and 16 in other scholarly journals. The work is the result of years of concerted effort among 250 experts from more than 20 countries as part of FANTOM 5 (Functional Annotation of the Mammalian Genome). The FANTOM project, led by the Japanese institution RIKEN, is aimed at building a complete library of human genes.
Researchers studied human and mouse cells using a new technology called Cap Analysis of Gene Expression (CAGE), developed at RIKEN, to discover how 95% of all human genes are switched on and off. These "switches" — called "promoters" and "enhancers" — are the regions of DNA that manage gene activity. The researchers mapped the activity of 180,000 promoters and 44,000 enhancers across a wide range of human cell types and tissues and, in most cases, found they were linked with specific cell types.
"We now have the ability to narrow down the genes involved in particular diseases based on the tissue cell or organ in which they work," said Hide. "This new atlas points us to the exact locations to look for the key genetic variants that might map to a disease."
See on www.kurzweilai.net
See on Scoop.it – Curiosopernatura

Researchers at the Division of Nanotechnology and Functional Materials, Uppsala University have developed a paper filter, which can remove virus particles with an efficiency matching that of the best industrial virus filters. The paper filter consists of 100 percent high purity cellulose nanofibers, directly derived from nature.
The research was carried out in collaboration with virologists from the Swedish University of Agricultural Sciences/Swedish National Veterinary Institute and is published in the Advanced Healthcare Materials journal.
Virus particles are very peculiar objects- tiny (about thousand times thinner than a human hair) yet mighty. Viruses can only replicate in living cells but once the cells become infected the viruses can turn out to be extremely pathogenic. Viruses can actively cause diseases on their own or even transform healthy cells to malignant tumors.
'Viral contamination of biotechnological products is a serious challenge for production of therapeutic proteins and vaccines. Because of the small size, virus removal is a non-trivial task, and, therefore, inexpensive and robust virus removal filters are highly demanded', says Albert Mihranyan, Associate Professor at the Division of Nanotechnology and Functional Materials, Uppsala University, who heads the study.
Cellulose is one of the most common materials to produce various types of filters because it is inexpensive, disposable, inert and non-toxic. It is also mechanically strong, hydrophyllic, stable in a wide range of pH, and can withstand sterilization e.g. by autoclaving. Normal filter paper, used for chemistry, has too large pores to remove viruses.
The undergraduate student Linus Wågberg, Professor Maria Strømme, and Associate Professor Albert Mihranyan at the Division of Nanotechnology and Functional Materials, Uppsala University, in collaboration with virologists Dr. Giorgi Metreveli, Eva Emmoth, and Professor Sándor Belák from the Swedish University of Agricultural Sciences (SLU)/Swedish National Veterinary Institute (SVA), report a design of a paper filter which is capable of removing virus particles with the efficiency matching that of the best industrial virus filters. The reported paper filter, which is manufactured according to the traditional paper making processes, consists of 100 percent high purity cellulose nanofibers directly derived from nature.
The discovery is a result of a decade long research on the properties of high surface area nanocellulose materials, which eventually enabled the scientists to tailor the pore size distribution of their paper precisely in the range desirable for virus filtration.
See on www.uu.se
See on Scoop.it – Curiosopernatura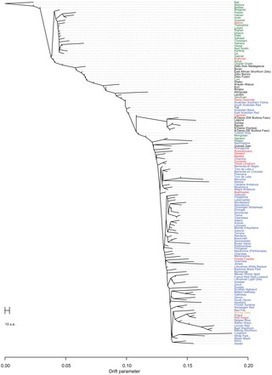 Cattle were independently domesticated from the aurochs, a
wild bovine species, in the vicinity of the current countries of
Turkey and Pakistan ∼10,000 y ago. Cattle have since spread
with humans across the world, including to regions where these
two distinct lineages have hybridized. Using genomic tools, we
investigated the ancestry of cattle from across the world. We
determined that the descendants of the cattle brought to the
New World by the Spanish in the late 1400s show ancestry
from multiple domesticated lineages. This pattern resulted
from pre-Columbian introgression of genes from African cattle
into southern Europe.
The domestication and development of cattle has considerably impacted human societies, but the histories of cattle breeds and populations have been poorly understood especially for African, Asian, and American breeds. Using genotypes from 43,043 autosomal single nucleotide polymorphism markers scored in 1,543 animals, a group of scientists now evaluatee the population structure of 134 domesticated bovid breeds. Regardless of the analytical method or sample subset, the three major groups of Asian indicine, Eurasian taurine, and African taurine were consistently observed.
Patterns of geographic dispersal resulting from co-migration with humans and exportation were recognizable in phylogenetic networks. All analytical methods revealed patterns of hybridization which occurred after divergence. Using 19 breeds, the researchers mapped the cline of indicine introgression into Africa. They inferred that African taurine possess a large portion of wild African auroch ancestry, causing their divergence from Eurasian taurine. They detected exportation patterns in Asia and identifed a cline of Eurasian taurine/indicine hybridization in Asia. They also identifed the influence of species other than Bos taurus taurus and B. t. indicus in the formation of Asian breeds. They detected the pronounced influence of Shorthorn cattle in the formation of European breeds. Iberian and Italian cattle possess introgression from African taurine. American Criollo cattle originate from Iberia, and not directly from Africa with African ancestry inherited via Iberian ancestors. Indicine introgression into American cattle occurred in the Americas, and not Europe. The researchers argued that cattle migration, movement and trading followed by admixture have been important forces in shaping modern bovine genomic variation.
See on www.plosgenetics.org
See on Scoop.it – Curiosopernatura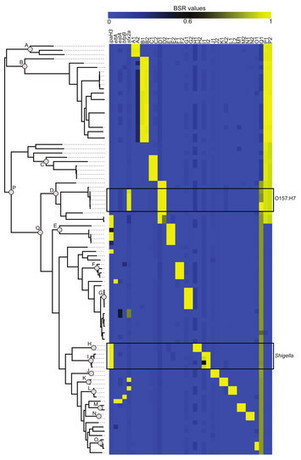 Background. As whole genome sequence data from bacterial isolates becomes cheaper to generate, computational methods are needed to correlate sequence data with biological observations. Here we present the large-scale BLAST score ratio (LS-BSR) pipeline, which rapidly compares the genetic content of hundreds to thousands of bacterial genomes, and returns a matrix that describes the relatedness of all coding sequences (CDSs) in all genomes surveyed. This matrix can be easily parsed in order to identify genetic relationships between bacterial genomes. Although pipelines have been published that group peptides by sequence similarity, no other software performs the rapid, large-scale, full-genome comparative analyses carried out by LS-BSR.Results. To demonstrate the utility of the method, the LS-BSR pipeline was tested on 96 Escherichia coli and Shigella genomes; the pipeline ran in 163 min using 16 processors, which is a greater than 7-fold speedup compared to using a single processor. The BSR values for each CDS, which indicate a relative level of relatedness, were then mapped to each genome on an independent core genome single nucleotide polymorphism (SNP) based phylogeny. Comparisons were then used to identify clade specific CDS markers and validate the LS-BSR pipeline based on molecular markers that delineate between classical E. coli pathogenic variant (pathovar) designations. Scalability tests demonstrated that the LS-BSR pipeline can process 1,000 E. coli genomes in 27–57 h, depending upon the alignment method, using 16 processors.Conclusions. LS-BSR is an open-source, parallel implementation of the BSR algorithm, enabling rapid comparison of the genetic content of large numbers of genomes. The results of the pipeline can be used to identify specific markers between user-defined phylogenetic groups, and to identify the loss and/or acquisition of genetic information between bacterial isolates. Taxa-specific genetic markers can then be translated into clinical diagnostics, or can be used to identify broadly conserved putative therapeutic candidates.
See on peerj.com
See on Scoop.it – Curiosopernatura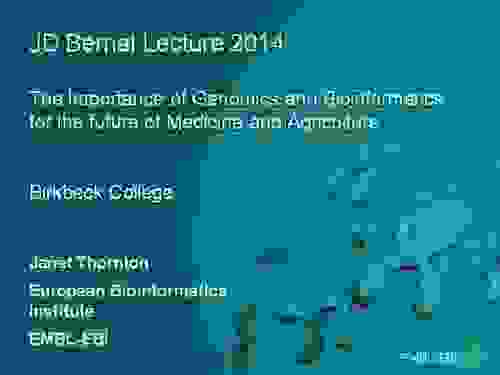 This lecture will present a background to the field of data-intensive biology (bioinformatics) and examine how we are taking the first steps to exploit the power of biological data for applications in medicine, healthcare and …
See on backdoorbroadcasting.net