See on Scoop.it – healthcare technology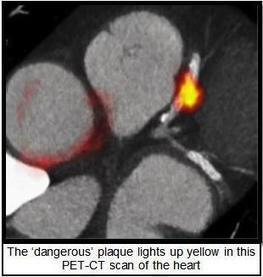 Scientists have created an imaging technique that can detect which patients are at high risk of heart attack. The device 'lights up' fatty plaques in the arteries that may rupture.
Researchers from the University of Edinburgh in the UK say the test – carried out using positron emission tomography (PET) and computed tomography (CT) – is able to "light up" dangerous fatty plaques in the arteries that are in danger of rupturing. This is a process that can cause heart attacks.
To reach their findings, the researchers analyzed 80 patients. Of these, 40 patients recently had a heart attack, while the other 40 patients had angina – restricted blood supply to the heart posing a higher risk of heart attack.
'First step' towards heart attack prevention
Using the PET-CT scanner, the researchers found that 90% of patients who had a heart attack showed a "lit up" yellow area in one of their blood vessels. This area corresponded exactly to the location of the plaque that caused the patients' heart attacks, the researchers say.
The scanner also showed lit up plaques in around 40% of the patients with angina. Furthermore, the researchers found "high-risk" features in these patients that suggested a heart attack may be imminent, meaning they were in need of aggressive drug treatment or surgery.
more: http://www.medicalnewstoday.com/articles/268643.php
See on www.medicalnewstoday.com